Following a few days of price declines, bitcoin has bounced off and jumped to around $49,000. Most alternative coins have also reacted well to the recent slumps, with impressive increases now. ADA leads the pack with a 10% surge to above $2.8.
Bitcoin Touched $49K
As reported by CryptoPotato, the past few days didn't go well for the primary cryptocurrency. It had failed to remain above $50,000 after it breached that level for the first time since mid-May and the bears had a grip on the market.
They pushed the asset south, and BTC was gradually dipping in value. This resulted in two consecutive drops to around $46,300 on Thursday and Friday.
However, the situation quickly reversed following the daily low yesterday, and bitcoin started to recover some ground. It reclaimed $47,000, did the same with $48,000, and just a few hours ago spiked above $49,000.
As of now, it has retraced slightly and stands just beneath that level, but its market capitalization is well above $900 billion.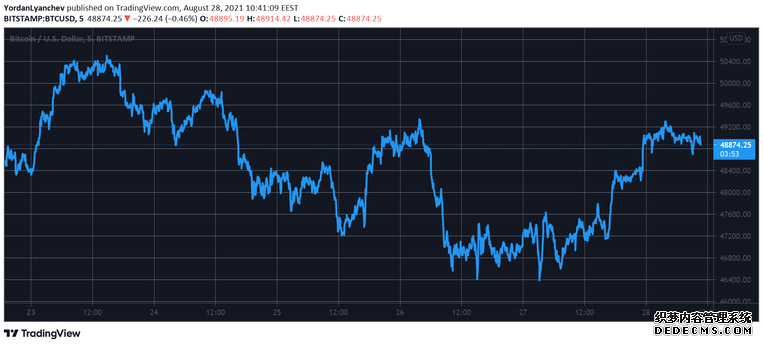 Altcoins See Nothing But Green
Somewhat expectedly, when BTC was heading south, so did the alternative coins. Ethereum dropped from $3,360 to below $3,100. As of now, though, it has recovered more than $150 of value, despite the recent bugin the blockchain.
Cardano has stolen the show once again with a near 10% surge on a 24-hour scale. As such, ADA has risen above $2.8 after dropping below $2.6 just days ago.
Binance Coin (2.5%) stands close to $490, Polkadot (4.5%) has neared $26, Uniswap (5%) is above $27, and Bitcoin Cash (3.5%) is at $630.
Even more impressive gains are evident from Ripple (6%), Dogecoin (6%), LUNA (6%), and Solana (8%). Interestingly, SOL has charted yet another all-time high – this time, just shy of $90.

In the past 24 hours, CELO has outperformed all other top 100 coins. It has skyrocketed by more than 50% to near $5. Arweave follows with a spectacular 30% surge to $37.
ICP (18%), Helium (16%), Tezos (13%), Kusama (12%), and Bitcoin Gold (12%) are next.
Ultimately, the cumulative market cap of all cryptocurrency assets has recovered $100 billion in a day to $2.1 trillion.